Globe Salon Offers New Reparative Hair Care from Kerastase
If you've stepped outside, then you know that Summer has arrived to Las Vegas in a big, hot way. Of course, that means sun and dry air and pool time … and all the hair damage that comes along with it. We have the solution!
Fix That Hair! | Introducing a New Product from Kerastase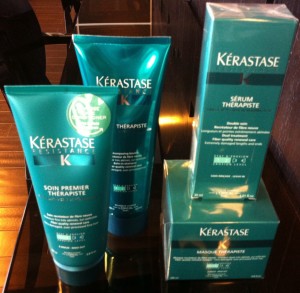 Many of you already are treating your hair to the amazing results associated with Kerastase, Globe Salon's very popular line of reparative hair care. Now, they have launched some new products that are awesome for those of you who just love to get color services: Resistance Therapiste.
Are you the guest who is constantly changing your hair color? Are you one of those for whom the blonde is never quite blonde enough? As you know, repeated chemical services (especially blonding) are tough on hair. Our professional application of the Olaplex treatment during the coloring process, as well as deep conditioners at the shampoo bowl, helps to alleviate those challenges. Now, for home care, comes Resistance Therapiste, Kerastase's super-reparative line that works hard to give your hair a second life.
Resistance Therapiste is seriously transformational. The science behind it adds fiber to the structure of the cuticle layer of the hair and rebuilds it from the outside in. How? Via the Resurrection Plant, a plant known for its ability to survive almost complete dehydration, sometimes springing back after 10 years near death. Kerastase has been able to extract the plant's sap, infusing it into the formulas of Resistance Therapiste and making it available to your hair.
There are four products in the line: Bain Therapiste (shampoo), Soin Premier Therapiste (conditioner, applied before shampooing), Masque Therapiste (a treatment mask), and Serum Therpiste (a leave-in reparative serum). We've been working with these products on our guests for a few weeks now, and the results are truly impressive. Even hyper-processed hair feels great. Plus, the products are not heavy, they smell fabulous, and your hair will love it. Stop by Globe Salon to get Resistance Therapiste today, and ask your stylist about it the next time you visit us.