Amanda's Warm Weather Picks
We cannot believe it's been more than a year since Amanda joined us at Globe Salon, but that's only because working with her is such a joy. She's smart, talented, and personable, possessing an amazing rapport. Here, she takes a turn at writing her first blog for us. We hope you enjoy!
* * *
As the weather gets warmer, it seems everyone feels the need for change. Longer days, warmer nights, darker skin, lighter hair… What's not to love about summer? When the season changes, we tend to crave change as well. With that in mind, these are my Top Five Picks to help revamp your routine with ease this season:
• Nothing looks more gorgeous than glowing, healthy, tan skin. But we all know how awful it can be for your health. If you want the glow without the sun, fake it! My favorites for an easy, natural glow are Jergens Natural Glow moisturizers. The smell has been slightly changed, so it isn't as strong as before, and they now are available in firming formulas as well, so you can say good-bye to cellulite and hello to a healthy glow. Plus, you'll be able to find them at most major retailers.
• Whether you shave, or (we hope!) take advantage of Globe Salon's amazing waxing services, being bikini ready means having no bikini bumps. To help keep your skin smooth, I love love love Bikini Saver! This super-effective crème contains ingredients to exfoliate, soothe and leave your skin moisturized, all of which help to avoid those dreaded bumps and ingrown hairs. Bikini Saver is available at Globe Salon.
• With 100-degree-plus temperatures on the horizon, who wants to spend time with their blow dryer? That's why Kerastasé Oleo Curl is a necessity for us wavy-hair girls. Just a quarter-sized application helps smooth frizz, define curls, and makes beachy waves totally achievable sans dryer. I like to think of it as a curl perfecting crème.
• Your skin is not the only thing affected by the desert sun. Damage to your hair and loss of vibrancy in color can easily be avoided by using a product that has UV filters. The Bumble and bumble Color Minded line is an excellent choice for protecting your hair and keeping your color salon fresh. Not only is it gentle on color when shampooing, it contains UV filters to protect during the day. Available at Globe Salon in a styling crème or polish, Color Minded is a great sunny season addition to help you achieve any look while taking care of your hair.
• Healthy, shiny, sexy, smooth hair is always in style, but I am usually skeptical of products that promise to deliver these things… Until now. Kerastasé recently launched Initialiste. They call it an "advanced scalp and hair concentrate"; I call it magic! I was lucky enough to test the product in the weeks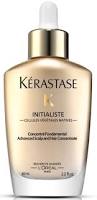 before its launch, and I am living proof it works. My hair is stronger, more shiny, softer and has more substance than it did pre-treatment. And 93% of women who used the product agree with me. The before-and-afters are nothing short of amazing, and thanks to YouTube, you can see for yourself!
Remember, if you have any questions about any of my picks, feel free to ask me next time you are in the salon. Thanks for reading, enjoy the season, and see all of you soon!